Description
FEATURES AND BENEFITS
NEW TREAD COMPOUND AND DESIGN
Provides confident wet braking and handling.
Provides cut-and-chip resistance.
Provides excellent off-road grip.
Delivers a quiet and comfortable ride.
MORE EVENLY DISTRIBUTED VOID AREA
Enhances on and off-road traction.
Increases tread block rigidity for excellent handling stability.
Provides better worn appearance.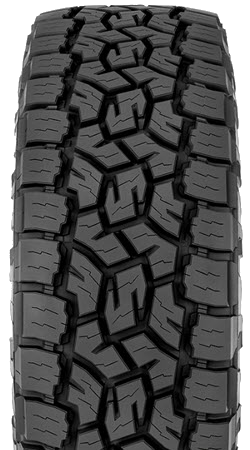 INCREASED LATERAL GROOVES
Enhance traction on all surfaces, including snow.
3D MULTI-WAVE SIPES
Enhance wet and snow traction.
Reduce irregular wear.
STONE-EJECTING BLOCKS
Eject stones from grooves.
STAGGERED SHOULDER LUGS
Enhance off-road traction with biting edges.
TREAD & SHOULDER DESIGN
Available with three distinct tread and shoulder designs, depending on construction and size. Select sizes also available with outline white lettering (OWL).

SIZES AND SPECIFICATIONS LEGEND
Load ID
SL = Standard Load
XL = Extra Load
RD = Reinforced
C = 6-ply rating
D = 8-ply rating
E = 10-ply rating
F = 12-ply rating
Sidewall
BSW = Black Sidewall
OWL = Outlined White Letters
Approved Rim Width Range
Bold designates
measuring rim width.